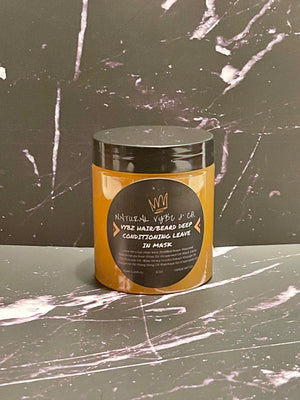 Applying this gel based Conscious Cosmetic to your damp hair, beard or Lox will have you in a heavenly dream state induced by the natural aroma of vanilla & honey, yummy! This is a leave in conditioning mask that has fast acting natural oils that will quickly & deeply hydrate, penetrate & condition even the most dry & thickest hair/beards. This lightweight non-greasy product helps to retain moisture, make hair/beards softer & more manageable, reduce breakage, detangles, conditions damaged dry/brittle hair/beards & protects against future damage. 
Ingredients:
Aloe Vera Gel, Olive Oil, Grapeseed Oil, Black Castor Oil, Avocado Oil, Raw Honey, Vanilla Extract, Flaxseed , Marshmallow Root, Orange Oil, Tangerine Oil, Ylang Ylang Oil, Patchouli Oil & Chamomile Oil. 
Directions:
After washing with Vybz Conditioning Shampoo spray hair/beard with the Hydration Mist & then apply Vybz Deep Conditioning Leave in Mask to style, activate waves, get curls popping or simply to deeply condition hair/beard.