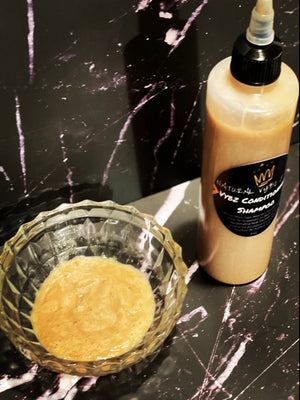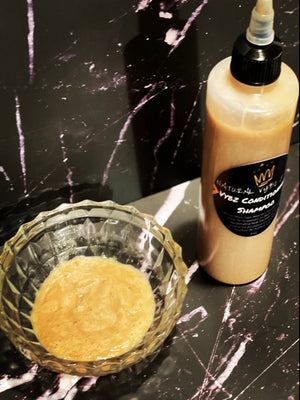 Vybz Conditioning Shampoo
SEE RESULTS WITHIN 7 DAYS:
Vybz Conditioning Shampoo is an innovative product for all hair and beard types. We use all natural authentic African Black Soap that has been naturally liquified and has other natural oils & ingredients added to give this conditioning shampoo an extra kick. Our Vybz Conditioning Shampoo has natural conditioning properties that repair damaged hair/beard, hydrates, moisturize, reduce frizz, odor, flaking, itching & inflammation. It naturally conditions, cleanse scalp, adds volume, assist with psoriasis of scalp, sensitive scalp, seborrheic dermatitis, balding & hair loss, while leaving hair/beard soft, conditioned, revitalized & dripping in nourishment. 
Ingredients:
*African Black Soap, Aloe Vera, Distilled Water, Olive Oil, Grapeseed Oil, Black Castor Oil, Flaxseed, Marshmallow Root, Glycerin, Tea Tree Oil, Lavender Oil, Eucalyptus Oil, Lemon Oil & Xanthan Gum.
Directions:
Massage conditioning shampoo into wet hair/beard to create rich cleansing lather. Indulge in how it feels & awakens your senses then rinse & repeat the process. For deeper conditioning leave on hair/beard for 5 minutes, cover with heating cap (shower cap) then rinse out. For final wash rinse with cool water to close pores for best results.