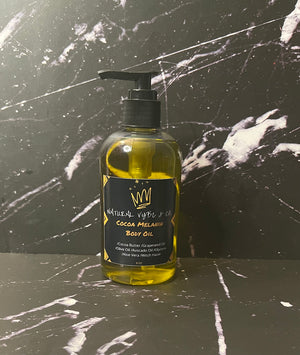 Vybz Cocoa Melanin Body Oil
This natural body oil smells like some of the richest chocolate prepared in exotic places from the finest Cocoa! If you're a fan of chocolate now you can smell like it without physically indulging in this rich mouth watering treat.
Vybz Cocoa Melanin Body Oil is a luxurious oil created with all natural, vegan products & no cheap mineral oil, fragrance oil or other cheap toxic compounds.
Not only will you smell edible, but you will also nourish, feed & moisturize your body leaving behind scents of mesmerizing chocolate & an amazing glow. Give your skin the natural products & ingredients it needs. 
 INGREDIENTS:
Cocoa Butter Oil, Olive Oil, Grapeseed Oil, Avocado Oil, Aloe Vera, Glycerin & Witch Hazel.