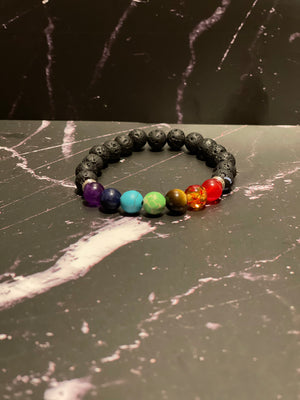 Aromatherapy Chakra Bracelet
This is a unisex adjustable bracelet with Lava Stone's that absorbs Essential Oil's making this a great stress reliever & meditation tool since this bracelet also provides aromatherapy. This bracelet will be infused with Essential Oil's according to the Essential Oil of the week.
Be sure to signup for our newsletters to receive discounts, knowledgeable information & the benefits of using the different types of Essential Oil's.
Each bracelets has 7 distinctive beads representing a different chakra according to the main 7 chakra points:
* Root Chakra / Red Agate: This is the chakra that grounds you more into the physical & makes you more aware of your physical surroundings. Red Agate is a stone of enhancing one's creativity, passions, perseverance & self love ❤️ 


*Sacral Chakra / Amber: Amber connects to your inner wisdom when it aligns & connects with your sacral chakra. This stone combines with this Sacral point also helps to feel at peace & calmness. 


*Solar Plexus / Tigers Eye: Both this crystal & InnerG point is influenced by the sun. The Solar Plexus is where your passion, fuel & desires resides & meditating with your Tigers Eye will help you to act on manifesting your deepest desires, passions & dreams.
*Heart Chakra / Green King Stone: Need to work on your compassion, peace to your life & helping to remove negativity from your space. Get intuned with your kindness, generosity & understanding of yourself & others. 


* Throat Chakra / Turquoise: This chakra is connected to communication & self expression. Turquoise is known to stimulate throat chakra to help summon inner wisdom, positive thoughts, truthful feedback & experiences.
* 3rd Eye / Lazurite: Helps bring clarity & slowly removes false images & illusions. Helps to refreshen your mind, perspective & brings awareness to areas of your life you wish to change. 


* Crown Chakra / Amethyst: Using this Amethyst stone while healing & aligning your Crown Chakra helps with activating & energizing Crown Chakra benefits. Using this stone along with chakra cleansing will help increase your intuition & reduce stress & anxiety.